THE FIRST DIRECTIVE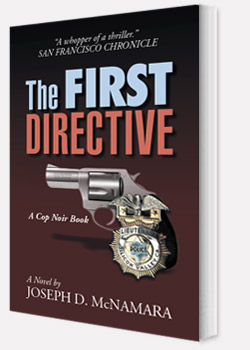 Corruption uses power for illegitimate private gains. A corrupt society stops valuing integrity, virtue or moral principles. It leads to decay and sets self destruction.
In The First Directive, author Joseph D. McNamara writes a detective fictional thriller about the case of a mega-rich man's missing daughter and the politics of corruption behind it. Microchip millionaires, with more money than they know what to do with and more power than they know how to handle come up against a tough detective seeking justice.
Big politics goes to bed with big money. With teenage girls involved, it's tough for Sergeant Fraleigh to make the right choices. Adolph Stone's teenage daughter has disappeared, and for some reason, people in high places are getting nervous about it. Fraleigh, an unconventional homicide cop, is put on the case. He promptly violates the first directive of police work by getting emotionally involved with Sandra Fortune a beautiful suspect.
The First Directive will enthrall you with the way the plot of the story develops and thickens after every flip of a page. It's a compelling detective thriller by an insider. A novel that delivers more kick as it richly reflects McNamara's mastery in literary writing flowing from his long history as a cop and police chief. The sudden twists and turns, coupled with a torrid romance, produce a mystery sure to entertain from beginning to end.