FATAL COMMAND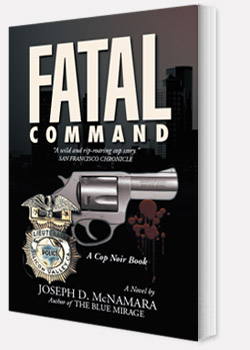 Author Joseph D. McNamara's impressive debut, The First Directive, had readers hooked. It's equally intriguing sequel, Fatal Command, is sure to lure readers—old and new fans—as familiar characters return in this gripping thriller. Re-published through Xlibris, this book will bring readers back to Silicon City where all the action is.
Fatal Command begins one morning when Officer Fraleigh—now high-tech boomtown's unorthodox new chief of detectives—supervises a quiet stakeout. Things go horribly wrong when the mayor's aide is gunned down, leaving an innocent young woman on the brink of death. The temptation of hard drugs, hot gold, or even something more priceless, takes its toll as power and greed make suspiciously strange bedfellows out of certain local cops, politicos, and mob members. And it threatens to put a lot of people to sleep—permanently. The pressure is on Farleigh and his crews, as things take an even more sinister turn in Silicon City.
With its fast-paced plot and colorful cast of characters, this gripping thriller benefits from the author's experience as a cop, giving it an authenticity that is often missing in similar books. Packed with plenty of action, suspense, danger, a dash of humor and with some lusty romantic escapades thrown in, Fatal Command will keep you on the edge of your seats from the first page until the last.