LOVE AND DEATH IN SILICON VALLEY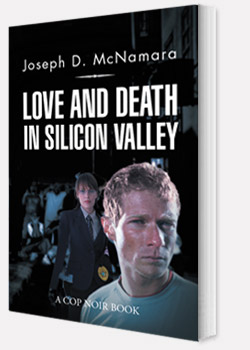 After the successful rolling of his four bestselling and equally stunning cop stories in The First Directive, The Fatal Command, The Blue Mirage, and Code 211 Blue, author Joseph D. McNamara cleverly reinforces his collection with another mind-blowing and fast-moving masterpiece in Love and Death in Silicon Valley, a hardnosed thriller that will undoubtedly hold you in its relentless grip for every turn, every bombshell and every revelation…until it allows you to breath.
Set in booming and highly technological Silicon Valley, this book spins around Sheriff Rusty Carter, who loses interest in police work when his wife died of cancer. After he retires, the Sureños gang, for unknown reasons, almost succeeds in murdering him; but he kills two gang-bangers in self-defense. This event leads him back to his former department for help only to find that the Sheriff's Department may be complicit and a sleazy D.A. maybe about to indict him for murder. It also baffles him whether or not a young, hot, and sexy female lieutenant heading the Homicide Squad wants to bed him or put him on a death row in San Quentin.
The story takes another gripping turn when Rusty becomes aware that he and his closest friends are in danger of assassination by the gangs. He turns to his former allies in the FBI and DEA who inform him that Mexican Drug Cartels and the local Sureños have put out a contract on him—and advise him to disappear. However, Rusty isn't about to be run out of town by gangsters; rather, he will work to find out who has marked him for death and why—eventually finding himself pondering preemptive strikes against his powerful enemies.